Demonstrating sample preparation equipment for microbiological analysis
Seward Laboratory Systems Inc, manufacturer of the Stomacher® laboratory paddle blender range, will be exhibiting at the International Association for Food Protection (IAFP 2013) Annual Meeting in Charlotte, North Carolina (28th-31st July). On Booth #1021 Seward will be highlighting its full range of Stomacher sample preparation equipment and bags for microbiological analysis in food safety and quality testing.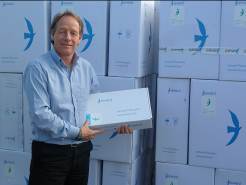 IAFP will also provide an ideal platform to introduce Gary Ross, the newly appointed CEO of Seward Laboratory Systems Inc, the North American office of Seward Ltd. Gary was previously the European Sales Manager for Seward Ltd, coordinating European distribution and channel management. Gary is seeking to expand Seward's North American operations and develop Seward's distribution channel for the South American food analysis market.
"As Silver Sustaining members of the IAFP, we recognise the significant role that the IAFP plays in training, education and development in the field of food hygiene," commented Gary Ross, CEO Seward Laboratory Systems Inc. "In turn, we believe in helping train and educate users of our technology. I am pleased to confirm that our Technical Director, Stuart Ray, will also be attending IAFP 2013 to discuss technical protocol developments for sample preparation with delegates."
All protocols for the enumeration and identification of organisms in food require the best sample possible to be successful. From traditional microbiology techniques using Petri dishes and broths, to the latest PCR identification systems the quality of sample processing is a key first stage.
Extracting micro-organisms from the food sample matrix and into suspension is crucial for success. The Stomacher® 400 Circulator laboratory paddle blender has a proven reputation for maximising recovery by a patented combination of crushing and washing. The Stomacher® 400 product lines are constructed to survive the harsh environment of manufacturing quality control where 200 – 300 samples may require processing every day.
For more information please contact Seward Laboratory Systems Inc on info@sewardusa.com