Seward Ltd., manufacturer of the world leading range of original Stomacher® paddle blenders and accessories, has expanded its range of Simplette® pipetting straws to fit a wider variety of variable-volume pipette handsets. Providing an accurate and economical sample handling alternative to pipette tips and graduated pipettes, disposable Simplettes are designed specifically to transfer prepared samples from the bottom of a Stomacher® bag without risk of cross contamination.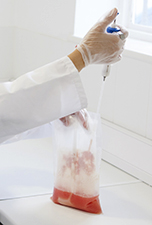 Now available with a narrower internal diameter of 3.6-3.7mm, as well as 4.1-4.2mm, Simplette straws will fit pipette handsets from a number of companies, including Barky and Socorex. Pipetting volumes of between 0.1 to 2 mL, Simplettes are also available in both 170 and 250mm lengths which means that a homogenised sample can be removed from the Stomacher bag for microbiological inoculations without risk of cross contamination, as the handset has no contact with the bag.
Irradiated sterile, Simplettes are available in a variety of quantities, either in bulk boxes of 1000 and 2000, or in convenient sachets of 25 or 50. The new narrower gauge Simplettes are available in quantities of 25 in a re-sealable clear sachet, making it easy to check the number of straws left for use.
"Following feedback from our customers, we have expanded our range of Simplette straws to better meet their sample handling requirements," commented Stuart Ray, Seward's Technical Director. "We are always keen to address customer requests, for example, we have also designed a Simplette with the dairy industry in mind, this is blue so it can be easily spotted when used for milk pipetting applications."
For more information on Seward, please visit www.seward.co.uk.