Seward's European customers and distribution network to benefit from enhanced support.
Worthing, UK – April 2012 – Seward Ltd, the manufacturer and developer of the patented Stomacher® Paddle Blender range, has recruited Gary Ross as European Sales Manager to its growing team. Drawing on years of experience, Gary will enhance support and information flow on Seward's broad range of sample preparation products to its distribution network, covering its large and expanding European customer base.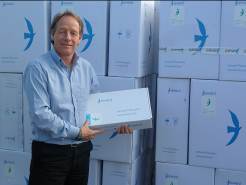 Fluent in Spanish and English and with practical knowledge of the food and beverage industry, Gary Ross has spent many years working with distributors, giving him an excellent understanding of their commercial needs. He is also ideally placed to offer sales support, training and access to technical assistance where required. A better informed distributor network will ultimately ensure that end users of Seward Stomacher products can more readily secure any assistance that they may require.
"We are very pleased to welcome Gary to the Seward team," said Howard Matthews, Director of Sales and Marketing, Seward Ltd., "By providing more regular direct contact with our European customers, we aim to ensure that they are better supported and able to secure in person answers to questions and receive assistance with all their sample preparation needs in a number of industry sectors, including food, environmental and life science."
The Stomacher® paddle blender range has been proven in laboratories around the world to be a valuable tool in industry, research, education and healthcare. In scientific procedures the quality of the sample and its preparation are critical to accurate results, Stomacher has been and continues to be developed to achieve this.