An inexpensive alternative to the graduated pipette
Worthing, UK – 8th June 2010. Seward Limited, manufacturer and developer of the world leading, patented Stomacher® Paddle Blender range for over 40 years, is offering users exceptional value for money with their new universal fit Simplette Straws. Designed for use with fixed or variable-volume pipette handsets and costing less than £0.01 each, Simplette Straws provide an inexpensive alternative to graduated pipettes for sample handling applications.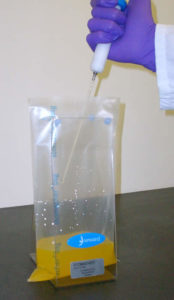 With their increased wall thickness and extended length, Simplette Straws offer further benefits when compared to standard pipette tips. The Simplette Straw has been designed specifically to reach the bottom of all Stomacher® bags. This means that an homogenised sample can be readily recovered for microbiological inoculations without risk of cross contamination via the pipette handsets, since they have no contact with the bag.
Packaged irradiated sterile and available in two lengths, 170mm and 250mm, the Simplette Straw delivers quality at a fraction of the cost of traditional graduated pipettes. Stuart Ray, Technical Director, Seward Ltd. commented, "For too long pipette users have been paying too much for traditional graduated pipettes. Our new universal fit Simplette Straws prove there is no need. Offering quality, value and peace of mind over cross contamination issues, they really are a practical alternative for simple sample handling purposes."
For free samples of Seward's new Simplette Straws and further information, contact us